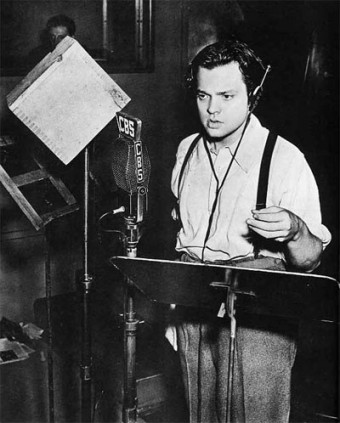 On October 30, 1938, from the Mercury Theater in New York City, Orson Welles broadcasted a "modernized" radio play of H.G. Wells' (no relation) 1898 novel "War of the Worlds." For the last three quarters of the century, we've been told that this fictionalized CBS broadcast sent Americans into a panic; that citizens across the country did not realize that this was science-fiction (despite the fact that it was explicitly stated at the beginning and twice during the broadcast) and thought the USA was under attack from an invading Martian army. Littered with realistic simulated news reports and "eyewitness accounts," the hour long broadcast was innovative and an extremely entertaining way to present the story.
So, how did the "The radio broadcast of War of the Worlds created mass hysteria" myth get perpetuated? In short, the media. Newspaper headlines across the country gave the impression that panic gripped the nation: "Radio Fake Scares Nation," read the Chicago Herald and Examiner; "Fake Radio War Stirs Terror Through US," was reported in the New York Daily News (accompanied with a picture of a frightened man and a woman with an arm sling whose caption read "war" victim.); "Terror by Radio," could be found in a New York Times editorial.
The newspaper industry had quite a bone to pick with the new medium of radio. As W. Joseph Campbell of American University wrote in the BBC News magazine in 2011 (for the 73rd anniversary of the broadcast), "…the so-called 'panic broadcast' brought newspapers an exceptional opportunity to censure radio, a still-new medium that was becoming a serious competitor in providing news and advertising."
That same New York Times editorial with the inflammatory headline had this to say about its new competitor, "Radio is new but it has adult responsibilities. It has not mastered itself or the material it uses."
Additionally, the newspapers also wanted to sell papers and what better way to do that than using words like "terror" or "panic" or "war." Using anecdotal and scattered stories, they made it seem like many citizens were ready to bear arms against the alien invaders, but in truth those stories were either very few and far between or in some cases completely made up. According to law enforcement and hospital documentation from the night in question, there were no reports of people taking to the streets with guns, no one taken to the hospital on the account of the radio broadcast, and no known person committing suicide as a result of the broadcast.
More here
Undercurrents is an award winning alternative news service producing videos of people taking inspiring actions. http://www.undercurrents.org