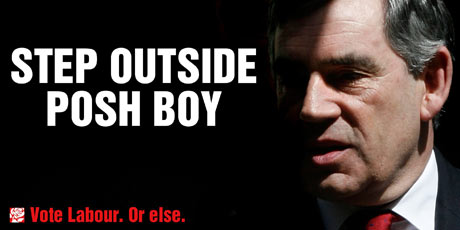 Following months of allegations about Brown's explosive outbursts and bullying, Downing Street will seize the initiative this week with a national billboard campaign portraying him as "a sort of Dirty Harry figure", in the words of a senior aide. One poster shows a glowering Brown alongside the caption "Step outside, posh boy," while another asks "Do you want some of this?"
Possible confrontations under discussion include pushing Andrew Marr out of the way while passing him on a staircase, or thumping the back of Jeremy Paxman's chair so hard that he flinches in shock.
Brilliant if they did it but of course it is the
first day of April
ain't it?