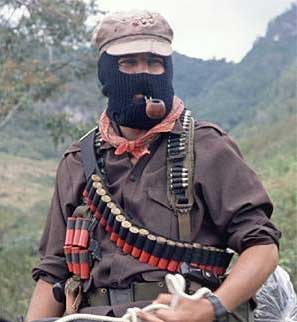 We don't know about you, but we Zapatistas from the EZLN, we know how important it is, in the middle of destruction and death, to hear some words of encouragement.
I don't know how to explain it, but it turns out that yes, words from afar might not stop a bomb, but it's as if a crack were opened in the black room of death and a tiny ray of light slips in.
As for everything else, what will happen will happen. The Israeli government will declare that it dealt a severe blow to terrorism, it will hide the magnitude of the massacre from its people, the large weapons manufacturers will have obtained economic support to face the crisis, and "the global public opinion," that malleable entity that is always in fashion, will turn away.
But that's not all. The Palestinian people will also resist and survive and continue struggling and will continue to have sympathy from below for their cause.
And perhaps a boy or girl from Gaza will survive, too. Perhaps they'll grow, and with them, their nerve, indignation, and rage. Perhaps they'll become soldiers or militiamen for one of the groups that struggle in Palestine. Perhaps they'll find themselves in combat with Israel. Perhaps they'll do it firing a gun. Perhaps sacrificing themselves with a belt of dynamite around their waists.
And then, from up there above, they will write about the Palestinians' violent nature and they'll make declarations condemning that violence and they'll get back to discussing if it's zionism or anti-semitism.
And no one will ask who planted that which is being harvested.
For the men, women, children, and elderly of the Zapatista National Liberation Army,
Subcomandante Insurgente Marcos
Mexico, January 4, 2009.