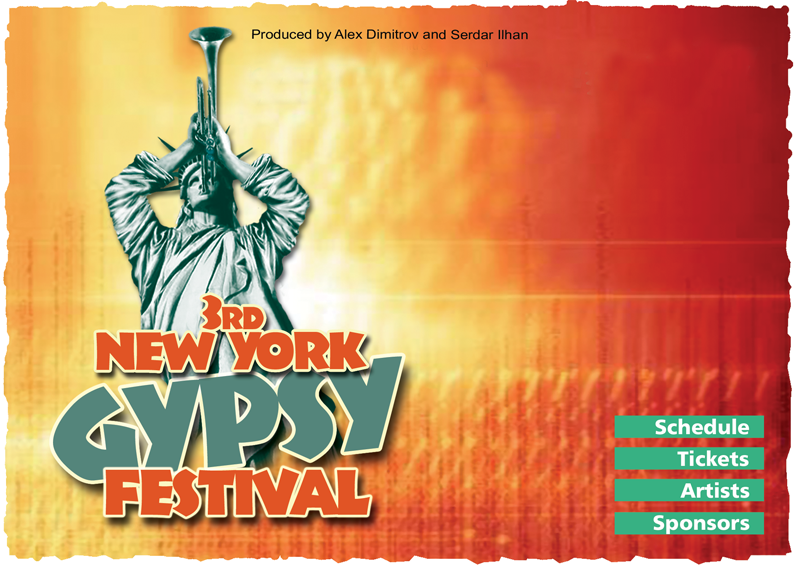 New York Roma / Gypsy Human Right Film Festival, 2nd edition
July 8th-13th
2008
Mehanata Bulgarian Bar
113 Ludlow St. NY
press contact:
nYGYPSYFILMFESTIVAL@GMAIL.COM


You're invited to the Second Annual New York Roma / Gypsy Human Right
Film Festival!


The New York Roma / Gypsy Human Right Film Festival again brings
together highly spirited filmmakers, musicians and a broad public who
believe in the respectful voice and meaningful representation each
individual is entitled to. Join the Festival in its continuous pursuit
of a vibrant and dignified
portrayal of the global Roma and Sinti population.
The festival will screen over 25 films from all over the world: Chile,
Czech
Republic,Germany, Bulgaria,England,Serbia, Hungary, Netherlands,
Romania,
Canada and Turkey, including many American debuts.
The Festival's two nights of special programs are dedicated to the
Sinti/Roma Holocaust, breaking the silence of a decades' long taboo.
Q&A's and panel discussions featuring the filmmakers and invited
artists and musicians will follow many screenings.
For years theSinti/Gypsy Holocaust experience has been minimized,
ignored, and denied. Keeping quiet in society's margins while culture,
heritage and spirit are stolen is not an option. To be heard, to be
seen: you need a face, a voice. And an audience!
So, join us for a closer look at the undeniable beauty of the Gypsy
people; to not look the other way when it comes to the adversity they
have been and are still forced to face. After centuries of slavery,
genocide, massacres and relentless ostracizing the Roma, presently
numbering around 15 million people worldwide, continue to suffer
unprecedented levels of violence in today's world.

Civilian attacks, fervent
segregation, police brutality and an
appalling lack of legitimate representation in art and media all
conspire to marginalize the Roma. We at the New York Gypsy Film
Festival hope to counteract these forces by exposing the public to the
art, music, history, culture and above all humanity of the beautiful
Roma people.

For full Festival details please view
www.nygypsyfilm.com